Online Shopping can be a time saver and a money-saver!
… but only if you know WHAT to shop for, and HOW to buy safely. For a busy Mom, online shopping for some things just makes good sense.
My focus here is using online shopping as a strategic weapon … almost a survival tactic!
(Of course, it can also be a selfish, well-deserved opportunity to treat yourself – but I deal with that elsewhere. If this is the direction you're interested in, click  Pamper Yourself.)
As a mom, your time is precious; so much so that it can make sense to buy some things online even if it costs more, provided it frees up valuable mom-time. But in reality you can often go online shopping and save money by doing so.
At one time you probably actually enjoyed shopping expeditions; but that was Before Kids. As you know all too well, the rules changed when the kids came along. There are MANY advantages to online shopping for some stuff. How much do you enjoy getting the kids ready and dragging them around with you? When I had toddlers it used to take me longer just to get them ready to go with me than it did to do the shopping BK (Before Kids).
Even if kids are in school, your schedules are dictated by kid activity timing (home from school, drop off at soccer or ballet or whatever, you've got 35 minutes to get to the shops, just hope there's parking …).
If you do your online shopping right it can be a safe, valuable and pleasant convenience, instead of a stressful chore.
* You can do it before the kids are up, during their nap, while they're at school, while they're at supervised after-school activities, after they're in bed – and do it from the comfort of your living room, with a coffee in your hand, sitting in your pj's.

* You don't waste time traveling there and back.

* No parking hassles either.

* Save on gas and help the environment.

* No line-ups, no crowds.

* No dragging kids, or husbands, along who don't want to be there.
OK, so what kind of things should you buy through online shopping? Well of course you can buy pretty much anything but there are some "natural" products where on-line shopping plain makes sense from a perspective of time-saving and convenience.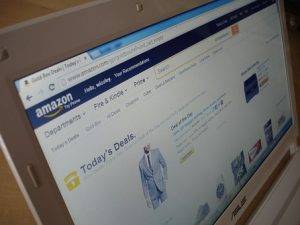 * Clothing "consumables" … meaning pantyhose, socks, underwear, handkerchiefs, etc. There's a great place online where you can get bargains with  This is much easier than having the kids drag along while you try to find the bra you want in the correct size!
* Household "consumables"
* How about your sofa? What about covering it with new covers?
* Are you in the market for furniture? Maybe a new dresser?
* Clothes that you don't have to try on! There are some unbelievable deals on fashion items out there; some of my favorites can be found here for
* Shoes can be tricky (and perhaps you consider shoe-shopping a pleasure; I'm one of the strange ones who thinks its a chore, but no-one has ever mistaken me for being fashionable). However, it's easy to buy children's shoes only from Amazon.
* There are some terrific online shopping deals on handbags and accessories, deals you'd never find in your local shops. If you know where to look, you can find brand new designer goods for cents on the dollar.
* Kitchenware. Again, there are some great deals out there; some of the best are online.
*Toys and products for children. There are always things you would like to buy for your children, or someone elses!
* Children need all sorts of things as they grow, and furniture needs change too. Going online means that you can see what type of options are available to you before you even head out the door to a favorite store.
Earlier I said "buy with caution." What do I mean? Well, there are a few things to watch out for.
First of all – online credit card use is in many ways a LOT safer than using a credit card in a gas station or a restaurant. But it still makes sense to have a card with a small limit that you use for ALL your online shopping. That way, if a "nasty" gets their hands on your credit card information, the damage is easily contained. And if you choose the right card you're protected even if someone rips your information off.
If you want, you can even get insurance in the form of a company monitoring your card use and raising a red flag if suddenly they see purchases being made that are out-of-town, or don't "fit" your usage profile. (Initially I had some concern about anyone monitoring my use – but of course every transaction on every credit card is open to someone's scrutiny anyway, so what's the big deal? And, by using just one card for all your Internet purchases, you limit the scrutiny anyway.) Some of the Better Business folk say this is an unnecessary expense, though; that if you take some simple precautions you shouldn't need to pay for insurance.
Second – if it's not a store you know by good reputation, it's worth a quick search on one of the popular search engines; search both on the company name and then on the web site name and see what pops up. Review the first 20 or 30 responses to the search … you'll often find complaints from forums or even people's personal web sites when there's a merchant performing badly. My husband's partner was about to make a purchase via eBay and this search revealed that the "seller" was a 100% scam artist.
Third – unless this definitely comes under the "treat yourself" or "pamper yourself" heading, ask if it's something you need; and is it really good value?
Fourth – check the shipping details. For some stores, shipping is free if you buy more than a certain amount, so it can make sense to place one large order than several smaller ones over time, PROVIDED we're talking about things you really need!
Finally – check the warranty and terms for return, just as you would with a regular in-person purchase at a store.
Now, there are some things you simply can't buy without being physically present. Goods from a bakery, for example, are best bought in person, fresh that day! And although you used to have to buy your own groceries, these days there are companies that will do this for you, thus saving you a bunch of time for the more important things.
By planning ahead, you can minimize shopping travel, combining a trip to the bank with a stop at the bakery and a dash to the library if one place is en route to the other, but you probably do this already! Or maybe these can be done while one child is at soccer practice. Automatic tellers make banking easier, and with online banking too, you rarely need to see the inside of a bank or stand in the line-ups there, thank goodness.
Well, all this talk of shopping has got me hooked, so online shopping here I come!