But can they?
The life of parents is never easy, whether we work outside the home or not, and this is not the only reason why we need to get our kids to help with the chores – regularly, and without fights and tantrums (from either you or your children!)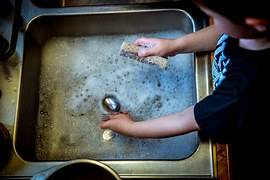 As youngsters, many will copy their moms (or dads) by dusting like she does, or vacuuming with their own toy vacuum, but unfortunately, this doesn't last very long! The novelty wears off, and we can't seem to get any help with the household chores from our kids, particularly as they get older.
It's easy just to give in and do the jobs yourself – that way you know they are done, and it saves the fighting and the emotional toll on you. But it doesn't have to be this way.
What you are probably looking for is to get help from your kids:
without the fights and arguments
without distraught moms or dads
without the lousy attitudes from your kids
with good behavior from your kids
with a calmer home
all while teaching your children about responsibility, teaching them life skills and self sufficiency, giving them confidence and teaching them about teamwork.
Assign them simple tasks, that do not take too long to do – like
taking out the garbage
wash the dishes
put some groceries in the fridge (if it is obvious where they go!), or cupboard
set the table
rinse dishes
tidying up their toys
watering your plants – make sure your watering can is not too big or heavy for them to lift easily
wash your car
brush the steps
help with meal prep – but you must be patient!
and in the summer, help in the garden.
There are a lot of simple jobs that they could do to help you, but make sure you are patient, and you do not criticize them or the way they are doing it.
Whatever you do, encourage their efforts!