Insurance, can you afford not to have it?
These days you can buy insurance coverage for just about any event or object, from health insurance to home insurance, from pet insurance to travel insurance, for art work to jewellery, etc. It is one of those things that you hate to buy, but when you need to make a claim, are so glad that you did! It need not be expensive, and it is very easy to get a quote online, fast too.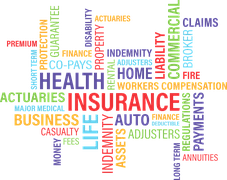 However, as with all documents, you should read the fine print so that you know exactly what you are covered for, in the event that you need to make a claim.
So, before committing to a policy, do your research ahead of time. If you are not sure about the meaning, ask for clarification – and yes it may be time consuming to do this, but it will be good for your peace of mind.
Decide what you can afford to pay. Find out how soon the coverage would begin. How soon can you make claims? – often dental plans do not cover you for the first few months, so you should know this ahead of time. And for some health plans, and pet insurance, it may not cover existing conditions.
Hopefully you will never have to make a claim, but your policy will be there should you need to.